DMC / Incoming
Waterman Travel is a Danish DMC which specializes in leisure cycling holidays in the southern and western part of the Island of Zealand, Denmark. We offer a range of products from our fixed FIT and GIT packages to fully customized cycling holidays.
As a DMC we focus on creating unique experiences for our international visitors. We have many years of experience as a outbound travel agent and tour organizer and are experts within the field of outdoor travel products. We are Denmark's leading organizer of fishing trips and exotic fishing and Denmarks premier DMC for incoming cycling holidays in the western and southern part of Zealand. Waterman Travel DMC comprises of a dedicated team of experts with many years of experience from the travel industry who all have lived most of their lives in this part of Denmark and therefore have a very intimate knowledge of the local culture, nature and people.
---

What we offer:

FIT
Our FIT-packages are for the smaller groups of travelers (1-9 pax). Our FIT-packages generally have a fixed itinerary based on our pre-existing catalog of products, but we do offer to customize to suit your preferences. The basic FIT-package will usually include accommodation and luggage transport, but other requirements such as meals, sightseeing tours, entry tickets, bike rental, transportation etc. can be arranged at an additional cost. 
All FIT bookings are handled on request on an individual basis. 


For requests or more information about our FIT-products please contact Jesper Johannesen @ Denne e-mail adresse bliver beskyttet mod spambots. Du skal have JavaScript aktiveret for at vise den. or +45 42 300 700



GIT
Our GIT-packages are aimed at larger groups of more than 10 pax. For groups we offer a range of unique experiences which can only be included in our GIT-package.
As with our FIT-packages we generally offer a fixed itinerary based on our pre-existing catalog of products, but we are happy to accommodate any special requests or organize a tailor-made package and program for your leisure group.

We offer departure with our GIT-packages on a fixed set of dates throughout the season, as certain attractions and events are only available on specific dates and days. 
The package includes accommodation, luggage transport, select meals, entry tickets/vouchers to specific attractions, meet and greet with our staff upon arrival, travel documents and full itinerary description in English etc. 

Our GIT-packages include items that are unique to the leisure group experience and can therefore not be offered to FIT-travelers.


To learn more about our GIT-packages please contact Jesper Johannesen @ Denne e-mail adresse bliver beskyttet mod spambots. Du skal have JavaScript aktiveret for at vise den. or +45 42 300 700
---
A word from our CEO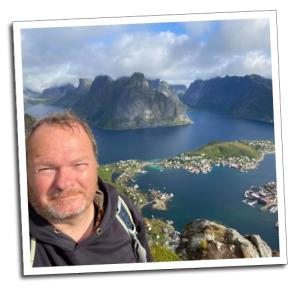 My name is Jesper Johannesen and I started Waterman Travel in 2017, with a desire to make specialized outdoor trips and within a few years we have succeeded in arranging trips to a number of destinations abroad such as the Maldives, Costa Rica, Mexico, Columbia, USA, Australia, Indonesia, South Africa and others.
Like many others in the travel industry, the years with Covid in 2020-2022 made it impossible to continue our normal line of work, with our usual outbound destinations. Therefore I had to look around for other ways to keep my small travel agency alive. I was born and raised in West Zealand and today live in the Sorø area, where Waterman Travel is also based. When new ideas had to come to mind in order for Waterman Travel to survive through the Covid-era, I was lucky enough to come across one in my own backyard - literally, because the newly established cycle route, Istidsruten our "The Ice Age Route" as it would be in English, runs through here. Therefore in collaboration with a number of other local partners including Destination Zealand, we therefore set about developing a concept for the Ice Age Route, where the traveler has the opportunity to visit Mid-West and North-West Zealand and experience the Ice Age Route in one integrated package, where everything necessary is provided along the way – overnight stays, luggage transport, bicycle hire, meals and experiences. We have been arranging the trips on the Ice Age Route since the summer of 2021 and the respons has been overwhelmingly positive, to the point where we are now looking to expand internationally and offer up this amazing cycling holiday experience to guests coming outside of Denmark. 
If you have any questions about our products or Waterman Travel in generel or you are interested in organizing a trip with us, please don't hesitate to contact me directly on +45 42 300 700
With best regards
Jesper Johannesen
Contact us

Mail: Denne e-mail adresse bliver beskyttet mod spambots. Du skal have JavaScript aktiveret for at vise den.

Phone: +45 42 300 700